Weapons Charges? Get a Gun Lawyer on Your Side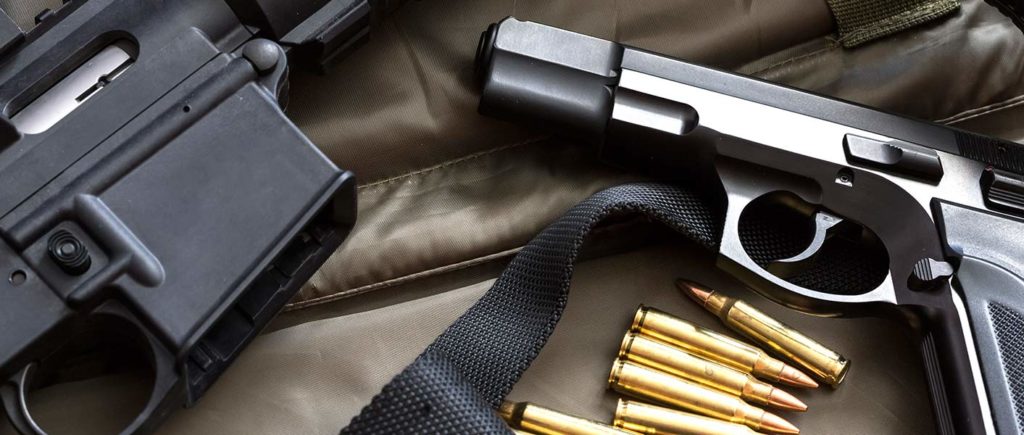 The State of California enforces some of the strictest gun laws in the country. Whether you are facing a misdemeanor or felony gun charge, or have an allegation of gang enhancement attached, it is essential to get a Los Angeles criminal defense attorney on your side right away.
Matt recently got all felony charges for a client arrested at LAX for carrying concealed guns in his vehicle dropped. He lived out of state and a felony conviction would have jeopardized his job. Learn more.
Los Angeles Criminal Lawyer Matthew Ruff
Matthew Ruff has successfully defended numerous gun cases over the course of his career. Recently he was hired to represent a client arrested in Burbank for possession of a concealed and loaded unregistered handgun in the vehicle. The case stemmed from a traffic stop where the police alleged they observed slow and slurred speech, red eyes and a strong odor of an alcoholic beverage. Matt negotiated with the Prosecutor and was able to get the felony charges dismissed after the client took a gun safety class.
Attorney Ruff has dedicated his entire legal career to Criminal Defense. He regularly appears in Court and is a familiar face to the Judges that hear these cases. He has a thorough understanding of California law and is skilled in filing various legal motions that can often result in the dismissal of your charge. For example, he has successfully won many cases by convincing a Judge that the police violated your Fourth Amendment right to search your vehicle or location.
Los Angeles Weapons Charges Lawyer
Weapons charges can have serious consequences and may result in jail time. Our top Los Angeles weapons charges lawyer has a successful track record of getting these types of cases dismissed by attacking the evidence. He is very familiar with Fourth Amendment search and seizure laws and can use this knowledge to persuade a Judge that the evidence was improperly obtained or that you did not commit the crime.
California has some of the strictest gun laws in the country and it's easy to violate these rules and regulations and find yourself facing charges. The penalties can be severe for both misdemeanor and felony weapons offenses.
Even items other than firearms can be considered deadly weapons in some cases, such as a baseball bat or a brick. In addition, a person could be charged with a weapons offense if they brandish or use any type of dangerous instrument in self-defense or in the defense of others.
Los Angeles Concealed Weapons Charges Lawyer
A conviction for a firearm crime in California could mean a lengthy prison sentence, hefty fines, and the loss of your rights to bear arms. If you or a loved one has been charged with violating any of the state's weapons laws, contact our Torrance criminal defense attorney immediately.
The right to own and carry a weapon is protected by the Second Amendment, but California's gun laws are extremely strict. Violating any of the numerous rules, regulations, or statutes may lead to Los Angeles gun charges. A skilled Los Angeles weapon crimes lawyer is vital to defending against these offenses, as they can help you avoid costly penalties and a lifetime of negative impacts on your personal and professional life.
Matt recently successfully defended a client in a Santa Clarita gun case where police found a loaded handgun in his vehicle. The client had a valid concealed carry permit from his home state and was traveling through California when he was stopped by the police. Matthew was able to have the charges dismissed and get the client's arrest record expunged.
Los Angeles Assault Weapons Charges Lawyer
California has some of the strictest weapons laws in the country, and being charged with a weapon offense can be serious. A weapons charges conviction could lead to prison time, fines, and a criminal record. In addition, a conviction could count as a "strike" under the state's three-strike law, which doubles the length of any subsequent prison sentence.
Whether you've been charged with misdemeanor or felony weapons crimes, an accomplished Los Angeles weapons charges lawyer can help. A weapons defense attorney may be able to argue that the weapon was not deadly, that you acted in self-defense, or that the other person made a false allegation.
A weapon crime conviction can carry heavy penalties, including a year or more in jail and up to a $1,000 fine for a misdemeanor, or one to 20 years for a felony. It's important to find a skilled weapons charges attorney as soon as possible. Your best option is an established firm with a track record of success.